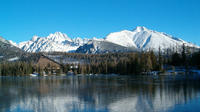 Private 2-Day Tour of Poland and Slovakia from Krakow to Vienna. Take a private tour to the pearl of Poland – holiday paradise – Zakopane, spend a night in a fairytale 4* hotel in the High Tatras, visit peaks from both sides of the Tatras, see UNESCO heritage villages, castles and finish your trip in the Slovak capital Bratislava or Vienna
Categoría: Tours de varios días y más largos.
Inicio en: Kraków, Poland.
Duración: 2 días.
Precio: 1.090,00 euros.