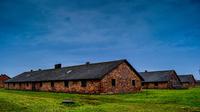 Super Saver Package Auschwitz Wieliczka Mine Tour and 23 Top Krakow Attractions. Visit two of Poland's UNESCO-listed sites and 23 Top Krakow Attractions with 2- or 3-day Pass4Krakow. Pay your respects to victims of the Holocaust on the Auschwitz guided tour, and descend deep underground to discover the stunning chambers and tunnels of the centuries-old Wieliczka Salt Mine. In the price of these remarkable two tours, you will also get 2- or 3-day free access to 23 popular Krakow attractions. The choice is simple!

Pass4Krakow has been created out of love for traveling and the desire to show you the best Krakow has to offer. Make the most of your stay and discover Krakow's real local spirit. During your 2- or 3-day stay you'll get a chance to see Auschwitz, Wieliczka Salt Mine, Wawel Castle, Main Square Underground, you'll learn the history of Krakow on walking tours and experience unforgettable moments on Vistula Boat Tour. To top it all off, you'll get to try traditional Polish food for free. All this to make Krakow stay in your heart forever.
Categoría: Tours culturales y temáticos.
Inicio en: Kraków, Poland.
Duración: 2 to 3 days.
Precio: 89,00 euros.